When The Smoke Clears (What to do after a fire)
1/28/2020 (Permalink)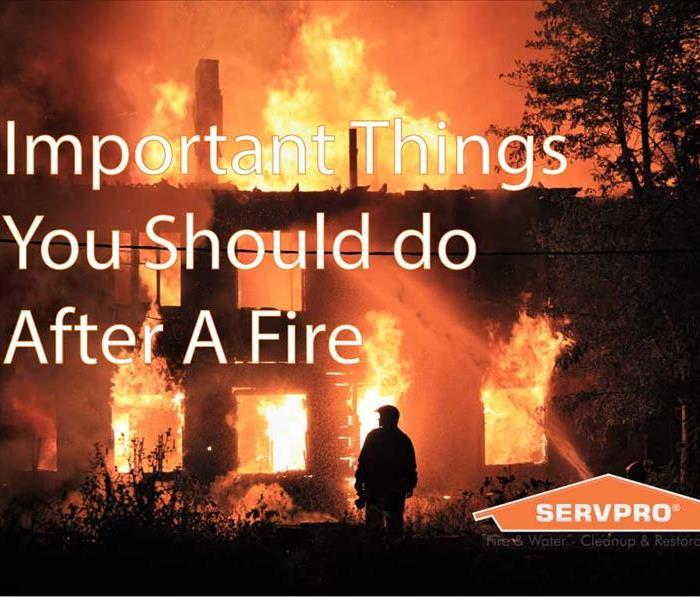 After a catastrophic incident like a fire to your home or business it may be difficult to know what to do next. While these events are traumatic it is important to focus on what needs to be done to minimize the amount of distress caused. Once the smoke has cleared hopefully following these steps will aid in the recovery process from the unfortunate scenario.
What to do After a Fire:
Find a temporary safe place to stay. The continued safety of you and your family is the most important thing. Life circumstances will dictate your specific options so please be aware of these in the event a fire occurs. Friends and family are always a good option for temporary housing. Not only will you be safe but being around people that care can help to alleviate some of the stress. Another option for temporary shelter and housing is the American Red Cross that is available to those who need it in Oregon and SW Washington. One final suggestion leads into the next step. This being that if you decide to opt for hotel accommodations please remember to stay within the budget allotted by your insurance company.
Contact your insurance company. Probably the most important step in getting you back to normal is ensuring that the loss is covered. Getting in touch with your insurance provider as soon as possible will help to expedite the disaster. Knowing what is included in your policy will help in planning out each step without costing you more than the fire already has.
Consult with a restoration company. It is important to have a professional, trained restoration company assess the damage as soon as possible in order to salvage as much of your personal belongings as possible. In addition, it is generally less expensive to restore than to rebuild or replace helping the financial burden that may be left from a fire. The damage can continue to worsen even after the fire has been extinguished, so time is essential in restoring your belongings.
Cooperation with the insurance provider is key. Although we all know that insurance companies aren't necessarily excited about having to pay out a claim, they are there to help you out in you time of need. The quicker they can get all the information about the incident and the belongings affected the quicker they can help with replacement or restoration. Insurance may not be everyone's favorite topic, but I can tell you from experience it sure is nice to have when the unexpected happens.
Make sure financial obligations are met. With all the stress that comes as a result of a fire it can be easy to forget things. Making sure that your mortgage is paid as well as insurance are just a few of the bills you need to remember during this trying time. Also ensuring that you are responsible with your spending with the restoration and reconstruction of your property is necessary. If you didn't have granite counter tops and marble floors prior to the loss maybe you shouldn't have those things put in with the reconstruction. Making sure that your replacements are within the guidelines of what your insurance covers will save on out of pocket expense.
Hopefully most of us will not have to go through the traumatic experience of watching their home or business fall victim to fire. While it may be a rare occurrence for most of us it is important to know what to do if it does happen to you. Some statistics of the damage caused by fire in Oregon can be found here from the U.S. Fire Administration. This list, while not exhaustive, is a good guide to help alleviate some of the stresses that can result from a fire.